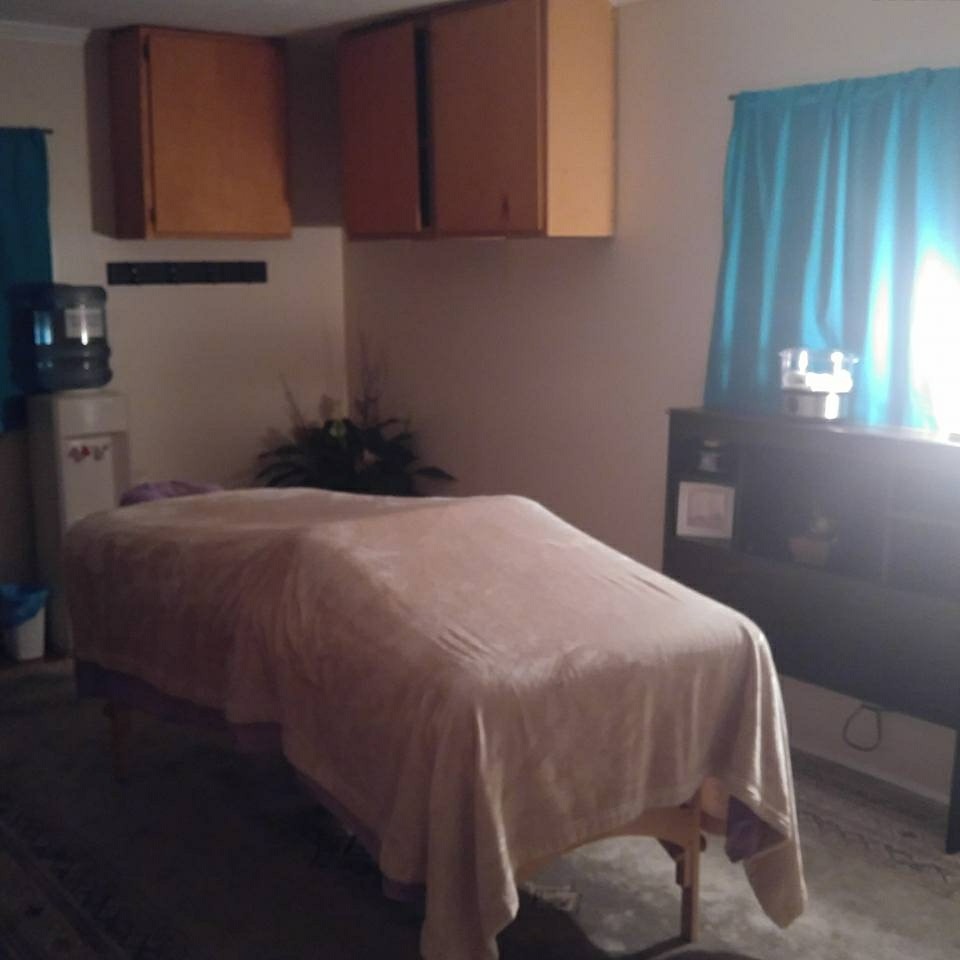 Welcome!

Jessie's Therapeutic Massage is a locally owned and operated business. The sole intent is to bring wellness to the community through therapeutic touch. Sadly, a lot of people who would benefit from massage and bodywork can't afford it. For this reason, there are numerous discounts in place so that you and your loved ones can enjoy massage without going beyond your budget.

Here, the therapist generally focuses on a more integrated massage(combining multiple modalities and techniques for a custom massage). Deep tissue is usually the primary technique but also offered are Swedish, sports(pre and post event), deep tissue, geriatric, pediatric, reflexology, prenatal, trigger point therapy, hara, facial and cranial sacral body work. Not only have all the educational requirements been met for the state license, but different styles and techniques have been integrated after studying in China. Jessie's offers a personable service in a clean, tidy, and cozy environrment. The massage studio is a renovated building with a relaxing ambiance and calming setting. There is no connecting bathroom at the moment but there is a clean bathroom at clients' disposable in the home. Jessie's is a great place to come if you want a tailored massage at an affordable price!
As a way of trying to spread more healing and well being to the community, Jessie offers SEVERAL DISCOUNTS! There are discounts for first responders (police, firefighters, EMTs) and all medical employees for both in-home and studio massage. Other discounts include lowered rates for ALL education related employees (teachers, teacher's aids, bus drivers, principals, custodians, anyone associated with education through their occupation), Thumbtack clients, Red Ventures employees, and anyone in the service industry (waitresses, waiters, bartenders, exterminators, cable man, customer service representative..). Basically, if you have a job that entails serving or helping people in some way, Jessie wants to help you! Also, SENIORS 60+ AND VETERANS RECEIVE A LIFELONG DISCOUNT!!! This discount is for both studio and in-home massage and prices are gauranteed for life! Jessie's Wellness Plan is another way to try and help spread massage to those who need therapies on a regular basis. After your first massage in a months time, all other massages within that month are $10 off! This is unlimited and good with all session lengths. So if you come 4 times in a month, your 2nd, 3rd and 4th massages would be $10 off. The Wellness Plan can be used along with all other discounts except the 10th massage 1/2 off. Jessie's also offers an incientive for helping spreading the wellness! For everyone you send to Jessie;s Therapeutic Massage, you will be credited $5 after their 1st massage. There are also discounts for buying multiple gift certificates in one transaction, great prices for in-home massage and business events. There are always surprise discounts offered at random and uploaded to Facebook. Make sure to "Like" the FB page so you don't miss out on these exclusive offers!
If you or a loved one is home-bound, has a hard time getting out or you simply want a massage in your home, no worries, Jessie will come to you! This is a great service if you like to entertain. Group massage is available for small parties and events for both homes and business. This is great for birthdays, anniversaries, graduations, home coming parties, bachelorette parties and so much more! Group massage is also offered to couples. If you or someone you know wants to learn massage to practice on themselves, a partner or friend, Jessie also offers a hands on learning experience. You can pick up different techniques and gather valuable insight from the therapist.
Jessie's Therapeutic Massage accepts cash, checks, PayPal and "square cash" app. All sessions must be booked at least 24hrs in advance, no walk- ins at this time, sessions are by appointment only.Thanks and we hope to see you soon! CALL AND BOOK TODAY! 803-322-5388